Jack uses pedal power to reach World Cup final
08 Sep 2011
During the week, Jack Reading is a student in Optometry at The University of Manchester – but in his spare time, he is one of the best Downhill Mountain Bikers in the UK.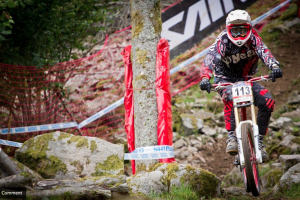 Jack recently took part in a World Cup event at La Bresse in France, having spent two weeks training in Whistler, Canada.

Jack finished in the top 50, although his achievement is all the more remarkable after being knocked unconscious during his previous race at Leogang in Austria.

Jack faced a tough round of qualifying before taking on the best 80 riders in the world in the final.

Jack said: "The hardest thing about World Cup qualifying is that fear that if you mess up you're going home and not racing in the final. The mental battle to stay focused and not let the nerves get the better of you is by far harder than the actual run itself."

But Jack kept his cool in qualifying, had a good run and qualified for the final at La Bresse.
Heavy overnight rain made the track even more challenging - and slower. Jack said: "I did four practice runs in the morning to get to grips with the new conditions and I knew the times would be tight - any mistake was going to cost a large handful of places!"
Jack was placed 48th out of the 80 competitors, but only four seconds outside the top ten. He said: "Overall I was very happy with my World Cup.  I've qualified for five out of seven now over the last two seasons, which isn't bad going."


See Jack in action here: http://www.pinkbike.com/video/211380/