Ballroom dancing lessons start this Wednesday … last few places available!
26 Sep 2011
10-week course in ballroom dancing from 28 September to 30 November 2011 (1.05pm) at The Martin Harris Centre for Music and Drama.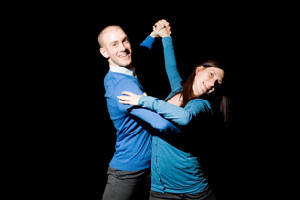 Ballroom dancing's recent popularity owes a lot to the hit TV show, Strictly Come Dancing. Ballroom is an elegant dance style that's enjoyed by all ages. If you would like to learn how to ballroom dance for general relaxation and enjoyment, or for a special ball or function, we can help you achieve your dream. Have fun, keep fit and we'll set you well on your way to becoming a fun, confident, social dancer.
Our 'learn to dance' classes will focus on the classic waltz, ballroom tango, Latin American jive and Cuban cha cha. The 10-week course is suitable for those with no dance or little dance experience. All lessons are delivered by a professional dancer with over 20 years training.
These classes are a continuation of the partnership between the Martin Harris Centre and The University of Manchester's Directorate of Human Resources as part of the University's Wellbeing initiative. 
Places are limited, so don't miss out, dig out your dancing shoes and get yourself signed up for the course!
10-week course: 10 lessons at £4 per lesson (total payable in advance £40.00).
To book:
Call the Box Office on 0161 275 8951
or
Further information online at: