Orientation Programme for EU and International Students
02 Sep 2011
The University's Orientation Programme (13–18 September 2011) consists of a number of discrete elements which work together to create a holistic programme to welcome our new international and EU students.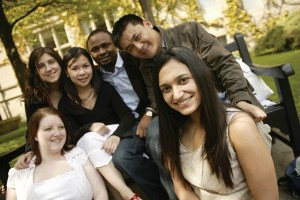 It is possible to enjoy and benefit from each activity on its own so students can tailor the programme to their own needs and interests and come to just as much as they would like.
Airport collection
Airport Collection begins at 8am on Tuesday 13 September and ends at 9.30pm on Sunday 18 September. Any new, unaccompanied student who is living in University Halls can make use of the service. They are met in the Arrivals Halls by Purple People (our student helpers), accompanied to the bus station and from there taken on to their Halls on one of our coaches. Students should book onto the service before 9 September using the online form at:
This page also gives you more information about the service along with information you can pass onto students who are arriving out of hours, with family or before the service starts.
Orientation activities and events
Our Helpdesks are operating from Tuesday 13 September with some scheduled activities on 14 and 15 September for those arriving in Manchester slightly earlier. There is a full programme of events both during the day and evening from Friday 16 September through to Sunday 18 September. Many activities and events are repeated to allow for the different arrival dates of the students.
You can view the whole programme on our web pages at:
Police registration
This year we are working more closely than ever with Greater Manchester Police to provide an efficient service in respect of those students who are required to register with the Police.
You can find more information on our web pages at:
Vaccinations
We are no longer able to offer vaccinations to students as part of the Orientation Programme. Students should be advised to register with a GP as soon as possible and, if relevant, to make an appointment to have any necessary vaccinations. GPs will be present at both our own Services Fair in the marquee outside Williamson Building on Friday afternoon and Saturday morning and at the Start of Year Fair from Tuesday of Welcome Week.
Compulsory sessions
The only compulsory sessions are for ERASMUS and Study Abroad & Exchange students, who must attend their presentations on Saturday morning. Please note that students from MBS should not attend these sessions.