Public lecture: Environmental impact of the Hungarian 'red mud' disaster
01 Sep 2011
Lessons learnt and could it happen again? Dr Zoltan Illes, Hungarian Minister for Environmental Affairs, speaks on 5 September (6.30pm) in Manchester Conference Centre, Sackville Street.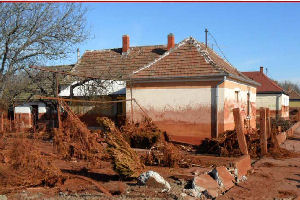 In October 2010, the sludge reservoir of an alumina production company south west of Budapest in Hungary burst. The accident released 700,000 cubic mmetres of alkaline 'red mud' waste which flooded towns and villages, contaminated over 10,000 hectares and polluted several rivers. Ten people died and over 130 were injured as a result of one of Europe's worst environmental disasters of the last 20 years.
Dr Zoltan Illes has been the Hungarian environmental minister since June 2010 and is therefore in a unique position to discuss what happened, how the red mud contamination and environmental damage was contained and what lessons can be learnt to prevent similar accidents happening elsewhere.
Refreshments provided.