Family Friendly Film Club Weekender at The Manchester Museum (4-7 August)
26 Jul 2011
With twilight screening of Japanese animated fantasy film, Ponyo.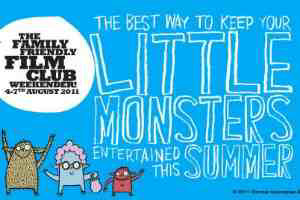 Thursday 4-Sunday 7 August
Family Friendly Film Club Weekender
The Manchester Museum is home to a T.rex, live amphibians, stuffed animals and objects from different cultures. So where better to watch short family-friendly films such as Dinosaurs and aliens, Fishy tails, Pets and Mozart in China? You can also take part in hands-on activities, such as making a fish or a bug.
Look out for a special twilight screening of Studio Ghibli's Ponyo - a 2008 Japanese animated fantasy film written and directed by Hayao Miyazaki of Studio Ghibli, inspired by Hans Christian Andersen's fairy tale The Little Mermaid. The plot centres on a goldfish named Ponyo who befriends a five-year-old human boy, Sosuke, and wants to become a human girl.
Thursday 4 August, 11.30am-12.30pm: Dinosaurs and aliens
Thursday 4 August, 2-3pm: Darius goes west
Thursday 4 August, 5.30-9pm: Ponyo (costs £5)
Friday 5 August, 11.30am-12.30pm: Pets
Friday 5 August, 2-3pm: Mozart in China
Saturday 6 August, 11.30am-12.30pm: The Four Seasons
Saturday 6 August, 2-3pm: Bugs and insects
Sunday 7 August, 11.30am-12.30pm: Farm animals
Sunday 7 August, 2-3pm: Fishy tails
Ponyo screening: Book on 0161 275 2635, £5
All other screenings: Drop-in, free
To find out more: