University opens its doors on a day of discovery
20 Jul 2011
People in Manchester are being invited to meet creepy crawlies and the scientists who study them this Saturday.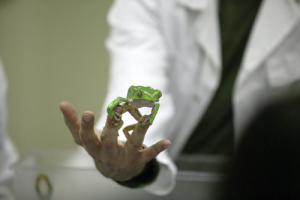 The University of Manchester's Faculty of Life Sciences is holding a free Open Day to allow people to look inside their labs.

Kids – and adults – will be able to get their hands on insects, make music with DNA, take a journey around the human body and feed the University's very own bug-eating plants. Visitors will also be able to look inside the laboratories, see robots at work and watch living things through million-pound microscopes.

There will be tours of the research labs where scientists work every day finding out the answers to questions ranging from how does stroke affect the brain to how do maggots communicate with each other?

University scientists will be on hand to talk about their work, including everything from cancer research and obesity busting to brain imaging and biofuel development.

There will also be a talk from Dr Liz Sheffield on "The Good, the Bad and the Ugly" science in some well known animated films.

The Open Day takes place on Saturday July 23 from 11am – 3pm in the Michael Smith Building, off Dover Street, at the heart of the University campus. Everyone is welcome, it is free of charge and there is no need to book.