University engineers made Fellows of the Royal Academy
14 Jul 2011
Two University of Manchester scientists have been made Fellows of the Royal Academy of Engineering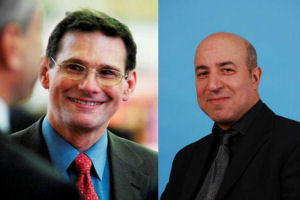 Professor Andrew Sherry, Director of the Dalton Nuclear Institute, and Professor Mohamed Missous, Professor of Semiconductor Materials and Devices, and were both awarded the accolade for the quality of their research and their industry experience.

In total, 50 UK Fellows have been elected with six International Fellows and three Honorary Fellows.

Professor Sherry started his career at the United Kingdom Atomic Energy Authority after completing his PhD at The University of Manchester. He returned to Manchester after 17 years working in the nuclear industry to lead the Materials Performance Centre, a BNFL University Research Alliance.

He has directed the Dalton Nuclear Institute since 2009, establishing a series of industrial research partnerships, expanding the nuclear research and education capability and enhancing public understanding of nuclear issues through outreach programmes and the media.

He provides independent expert advice to industry and Government in the UK and overseas and is a regular contributor to international meetings and conferences.  Professor Sherry's research interests are focused on the mechanistic understanding and predictive modelling of materials performance in nuclear applications.

He said: "It is a tremendous honour to be recognised by the Royal Academy of Engineering in this way, and provides a tremendous boost to the Dalton Nuclear Institute which seeks to bring academic research excellence to the most challenging nuclear issues of our time by working in close collaboration with nuclear stakeholders in the UK and around the world."

Professor Missous, from the School of Electrical and Electronic Engineering, joined the University in 1989, having previously gained his MSC and PhD from UMIST – now part of The University of Manchester.

His professional activities are centred on the growth of complex multi-layer semiconductor films by the technique of Molecular Beam Epitaxy (MBE).

Over the years he has concentrated, with considerable success, on establishing practical approaches and techniques required to meet stringent doping and thickness control, to sub monolayer accuracy, for a variety of advanced quantum devices.

Further work has involved working on amplifiers and Analogue to Digital converters for a range of applications including the Square Kilometre Array project (SKA).

Close industrial involvement with leading players in optoelectronic and microwaves is key to his work, including the design of Intelligent Cruise Control systems in cars. 

Professor Missous has given keynote speeches in many of the major gatherings of his disciplines, including Terahertz technology, infrared sensing, Molecular Beam Epitaxy and ultra high speed devices and has over 190 publications in the field.

He also co-founded Integrated Compound Semiconductors and Advanced Hall sensors to exploit advanced semiconductors devices in ultra high sensitivity position sensing, Terahertz imaging, mid infrared detection , automotive car radars and radio astronomy.  

Commenting on the recognition, Professor Missous said: "I am obviously delighted and honoured to be elected a Fellow of the RA Engineering.

"However this is very much a team effort and I would like to pay tribute to my past and present PhDs and Postdoctoral Research Associates and my wonderful technical support staff without whom none of these achievements would have been possible".

At its AGM in London, Fellows of the Royal Academy of Engineering confirmed Sir John Parker FREng as the Academy's new President, succeeding Lord Browne of Madingley who steps down after five years in office.

Included in the list are nine women, more than in any previous election in the Academy's 35-year history. Ann Lauvergeon has been elected as an International Fellow for her leadership and vision in creating AREVA and developing it into the world's largest builder of nuclear reactors, while Frances Saunders, Chief Executive of the Defence Science and Technology Laboratory has been made a Fellow for driving the creation of state-of-the-art equipment designed for the modern battlefield.