Japan nuclear victims in 1950s  'guinea pigs' and 'Communists'
12 Jul 2011
New insight into an infamous bomb test by the US army which exposed 23 Japanese fishermen to nuclear radiation has revealed the Americans viewed them - and their Japanese doctors - as Communist sympathisers.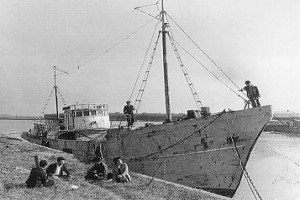 Dr Aya Homei from The University of Manchester says the men were also turned into objects of research following their ordeal.

The fishermen aboard the Lucky Dragon No. 5 were exposed to nuclear radiation following an American thermonuclear bomb test on Bikini Atoll in 1954.

Dr Homei studied a previously classified letter from the then US Ambassador to Japan, John M. Allison, describing Japanese doctors and scientists as 'fuzzy-minded leftists, pacifists and neutralists'.

Speaking about the incident in the 1950s, W. Sterling Cole of the US Congress Joint Committee on Atomic Energy indirectly accused the fishermen of being Communist spies.

Dr Homei said: "The victims were suspected of being Communist spies because their boat had been located near hypocentre of the explosion.

"However, it was never an official policy of the US Government to argue the patients and their doctors were Communists.
 
"But some top US officials feared that Communists in Japan would capitalize on the event."

The victims, says Dr Homei, became objects of research because it was the time of the cold war and nuclear arms race between the US and the Soviet Union was intensifying.
 
She said: "In this context, knowledge on the effect of radiation became highly prized.
 
"So it follows the doctors studying the effects of the bomb were suspected of briefing the Soviet Union."

In other documentation seen by Dr Homei, the fisherman said the director of the Atomic Bomb Casualty Commission John Morton, an American, was only interested in using them as 'guinea pigs' for American research - unlike the Japanese medics.

One victim Masaho Ikeda said in his diary: "[A]ll of us patients were looking forward to their visit . . . [but the ABCC doctors] only saw a few of the 21 of us.
 
"They did not even perform manual examination techniques such as auscultation and percussion. They only inspected us, briefly, from a distance, as if they were afraid of infection. And then, they quickly left."
 
One of the fishermen - Aikichi Kuboyama - died within seven months of the accident. The rest spent more than a year in Tokyo hospitals and almost half of them have since died.

Evidence, she suggests, shows most died of liver diseases linked to radiation exposure.

The Lucky Dragon victims, adds Dr Homei, were celebrated as tragic heroes in the Japanese press, but like survivors of atomic bombings in Hiroshima and Nagasaki in 1945, were also stigmatised because of the public's fear of radiation.