Manchester graduates are in the money
30 Jun 2011
Graduates from The University of Manchester are entering well-paid jobs, despite the recent uncertain economic climate.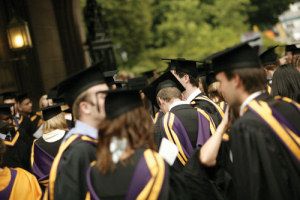 The average salary for graduates from The University of Manchester was £21,000 in 2009/10 – with eleven graduates walking straight into jobs commanding a six-figure salary.

A further 75 Manchester graduates picked up more than £50,000 as a starting salary last year.

Graduate destinations data collected by the University also reveals that 73% of Manchester graduates who got jobs went straight into graduate level employment.  The remainder are a mix of people doing temporary jobs before making a final decision or people taking a 'year out'.
Tammy Goldfeld, Assistant Director of The University of Manchester Careers Service, said:  "We are encouraged by the latest figures and the signs of a continued recovery of the graduate recruitment market. 

"Our recent jobs fair was a sell-out with nearly 200 organisations offering immediate opportunities and we are currently advertising hundreds of jobs and internships.

"We also help our graduates up to three years after graduation with advice on CVs and interview technique."  

Whilst the latest figures reveal that rates of employment amongst Manchester graduates improved last year, they also show that rates of unemployment declined.  In 2008/09, 8% of full-time first degree graduates from Manchester were assumed to be unemployed, but last year the figure dropped to 6.6%.

Tammy Goldfeld added: "This latest data shows that Manchester graduates remain highly employable, and the graduate employment market shows definite signs of recovery with an increased number of Manchester graduates securing jobs."