Acting for African victims of war
30 Jun 2011
A University of Manchester network of theatre practitioners, which works in conflict zones around the world, is heading to Africa to share experiences of working in warzones.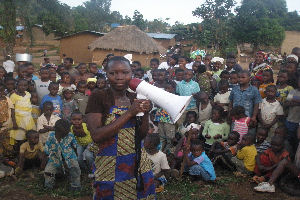 In Place of War, working with Search for a Common Ground, will next week deliver an event in Goma, Democratic Republic of the Congo, bringing together theatre practitioners, academics and NGOs to share ideas and knowledge about working in the context of war.

Over three days a group of people representing the countries of Sri Lanka, Palestine, Kosovo, UK, Northern. Ireland, Rwanda, Zimbabwe, Burundi, DRC, The Netherlands and USA will come together to share practice and ideas and discuss the challenges

The event will feature a range of presentations, panels, workshops and performances – as well as a visit to the field to see work being conducted in Goma. Themes of healing, reconciliation and rituals will be explored.
This is the third meeting of international theatre practitioners, following meetings in Manchester, UK and Pristina, Kosovo.

In Place of War researches theatre and performance practice from sites of crisis and armed conflict. The first decade of the 21st century has witnessed multiple wars and humanitarian crises -– connected to the instabilities of economic globalisation, historical political grievance, global structural inequity and new forms of ecological threat.

While the events of our contemporary 'times of blood and crime' are not without historical precedent, they have never before had such evident global reach, impact and interconnectedness. In Place of War was established in 2004 by Professor James Thompson.

Search for Common Ground works to transform the way the world deals with conflict -– away from adversarial approaches and towards collaborative problem solving. SFCG uses a multi-faceted approach, employing media initiatives and working with local partners in government and civil society, to find culturally appropriate means to strengthen societies' capacity to deal with conflicts constructively: to understand the differences and act on the commonalities.

Goma is the largest town in the North Kivu province of eastern DR Congo on the border with Rwanda and the site of mass displacement of refugees and internal displaced people after the 1994 Rwanda genocide and a centre of the crises in the years that followed.

Don Thsibanda, from Search for Common Ground, said: "This seminar will bring to the knowledge of external audiences the way we combine rituals, drums, music and dance for reconciliation and trauma healing. We hope to get professional critics and comments on our work so that we can improve and have a greater impact on conflict transformation.