Final Martin Amis Public Event with guests Will Self and Erica Wagner
27 Jun 2011
World-famous novelist Martin Amis, Professor of Creative Writing at the Centre for New Writing, will be in conversation with novelist Will Self and novelist and Literary Editor of The Times Erica Wagner in his final high-profile public event at The University of Manchester on Monday 4 July (6.30pm), American Independence Day.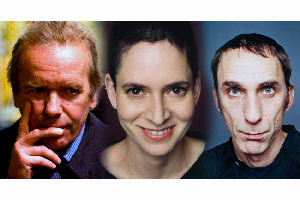 Tickets: £7 / £5
Together they will explore the influence of America on the literature and culture of the 20th and 21st centuries. They will discuss the particular characteristics of American culture and thought, and ask how the American tradition has influenced writers and thinkers from other countries.
Martin Amis is set to finish his tenure at the University in July after four years as Professor of Creative Writing. After extending his time at the University by a year, Amis and his family are moving to New York, the home city of his wife. Since his arrival, there has been a 100 per cent increase in students applying for Centre for New Writing Courses where he is based. His sell out public events have been hugely popular – attracting luminaries such as Howard Jacobson, John Banville, and Melvyn Bragg.
Of his time at Manchester, Amis said:
"'Teaching creative writing at Manchester has been a joy. I've become very fond of my colleagues, especially John McAuliffe and Ian McGuire.
"I was impressed by the four instalments of 'youth' I encountered - they seemed to me impressively independent-minded and non-ideological.
"I loved doing all the reading and the talking; and I very much took to the Mancunians.
"They are a witty and tolerant contingent.
"We are moving to NY purely for family reasons. I will never quite leave London, and I hope to revisit Manchester regularly."
World-renowned author Colm Toibin has been appointed as Professor of Creative Writing at The University of Manchester and will take up his post in September 2011.

The event will include a Q&A session, allowing members of the public to put their questions and opinions to the panel.
Tickets are available from:
For more information, visit: