Famous entrepreneurs speak at University of Manchester event
27 Jun 2011
June saw the fourth annual staging of the Research to Enterprise Summit at University Place to a large audience of researchers from across the University with another selection of interesting enterprising speakers.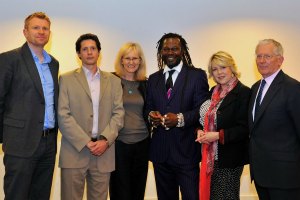 Dave Thomas, a graduate of the University, described how, bored with working in a large corporate, he started two technology companies and is now a Director at Winning Pitch, a business consultancy for start-ups in the North West. This experience has led him to believe that the biggest source of jobs for researchers in the future will be in fast growing small start up companies.
  
Jo Fairley, co-founder of Green and Black's Chocolate, explained how it was possible to be ethical and still make money in business. She described coming up with the idea in a London flat and the commitment and work that was required, as well as some of the more unique ways in which the product had generated publicity, including the church urging people to buy Green and Black's Chocolate!
  
Nick Hewer, who is known as Alan Sugar's right hand man on The Apprentice, talked about some of his favourite moments from the series and also described how Sir Alan talked him into helping with the project, despite Nick having sold his successful company and retired to France several years earlier.
  
Levi Roots gave a live rendition of his theme music for his Reggae Reggae Sauce, complete with his guitar, before giving a humorous account of his experience of pitching for funding on Dragon's Den after being approached at a trade exhibition. He was finally persuaded to apply after his daughter told him not to.
The event, organised by Manchester Enterprise Centre, is part of a complimentary series of activities including workshops, mentoring and an annual enterprise school to encourage researchers at the university in all faculties to be more enterprising.
For more details, contact: