Diversity Week
14 Jun 2011
Hundreds of staff and students celebrated their diversity as part of Equality & Diversity's World Diversity Day events (23-27 May).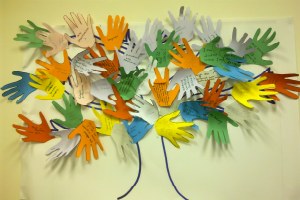 People were encouraged to complete a hand to place on the 'Tree of Diversity' (pictured) and also to complete the online Equality & Diversity Training.
Other events included a walking tour of Manchester and the University's first Alternative Song Contest. Staff and students had nominated 12 songs from around the globe. The winner was Manchester-based Freedom of the City with their song 'Bleed The Sky'.
More events will be running during the rest of the year in line with: