Wedding bells rock out at The Manchester Musem
13 Jun 2011
106.1 Rock Radio is getting married - and they're looking for two couples to share the day!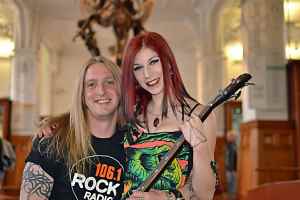 106.1 Rock Radio's 'Dewsbury' from Mike Sweeney's Breakfast Show will tie the knot with his fiancé Jo in front of The Manchester Museum's original T. Rex, named Stan, on 4 August.
Better known to his fiancé as Russ Collington, Dewsbury and Jo will be the first couple to wed at this incredible venue since it was awarded a licence to conduct civil ceremonies earlier this year.
In typical style, 106.1 Rock Radio want to share the love on this very special occasion. So, from Monday 13 June, they are asking couples who would like to get married alongside Dewsbury and Jo at the Museum to register at Rock Radio and tell them, in 100 words, why they should be one of the finalists.
Rock Radio will then pick their favourite 10 couples and tell their story on-air, online and on their Facebook page, launching two weeks of intensive voting for the couples. The two couples with the most votes will win an amazing wedding package which will include:
A legal civil ceremony by a registrar at The Manchester Museum in front of Stan;
Flowers;
A photographer to capture the day;
Classic muscle wedding cars;
A joint reception party at Jabez Clegg with a hog roast, live rock bands, a cheesy wedding DJ and whatever else the contestants can blag.
Quite simply, it will be one of the most unique and original weddings a couple could wish for!
Chloe Gray, the Museum's Corporate Hire Coordinator, said: "We're really pleased to be helping Russ and Jo on their special day and very excited to be working with 106.1 Rock Radio to find two further couples to be married alongside them. The Manchester Museum is a perfect venue for anyone looking for somewhere different and totally unique to take their wedding vows."
Even if a rock wedding isn't your thing, The Manchester Musem could still be the ideal venue for your special day. With a collection of around 4.5 million items, including mummies, dinosaurs, pottery, weapons, snakes and frogs, the Museum can make sure it's a day to remember! Ceremonies, wedding breakfasts and receptions can be accommodated in a combination of conferencing suite and galleries to suit your individual needs.
For more information, visit: