Eco-friendly building solution takes top prize in Venture Further
06 Jun 2011
John Wade, a first year civil engineering student in the School of Mechanical and Civil Engineering, impressed the judges with Cav-Form, his innovative cavity protection system.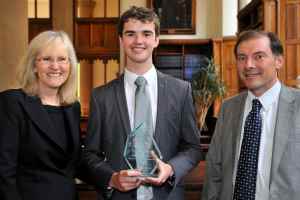 His patented technology, which has already been prototyped, will not only cut costs for an already hard-hit building industry but will also serve to reduce a building's overall carbon footprint. Cav-Form received more good news in the days following the competition when the British Board of Agrément (BBA) granted approval of this new construction product.
While John was delighted at winning such a prestigious award, he was also clear about the work that lay ahead of him in raising awareness of Cav-Form amongst building professionals such as architects.
Receiving the award, John said: "Winning Venture Further is a fantastic boost for Cav-Form. The prize money and services now available will provide a real boost in getting the marketing process up and running."
Lynn Sheppard, Director of the Manchester Enterprise Centre said: "I was incredibly impressed by the innovation and the enthusiasm that all the finalists displayed; and I'm sure that they will all go on to make a real difference in the future; whether within their own companies or being intrapreneurial within an existing organisation."
Professor Luke Georghiou, Vice President for Research and Innovation said: "Competitions such as Venture Further are an essential part of the University's mission in equipping our students to be able to make an impact in both the economy and society."
The competition has been equally popular with undergraduates and postgraduates across the University proving that enterprising students can come from any academic discipline. The top prize includes £8,000 cash and in-kind support from Adastra Technology.
Raising Aspirations, a social enterprise which aims to increase the aspirations and life chances of children from deprived communities through dance, took second place in the competition; and third prize went to Printers Inc. which aims to link up artists and consumers with a web-based platform that will allow a range of printing options to be selected and purchased.