Circle of Friends: International Educational Advisor Fair
03 Jun 2011
On Wednesday 8 June (9.30-11am) in University Place, 5th Floor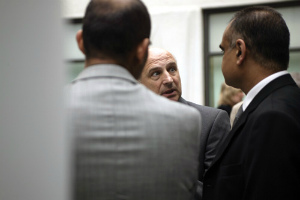 As you may already be aware, The International Office is organising its third Circle of Friends Conference from 6 to 9 June. This is an opportunity for colleagues throughout the University to meet with the University's global education agent network with the purpose of strengthening relations and encouraging an open dialogue about international student recruitment.  
The focus of the three-day programme will be the International Educational Advisor Fair which will enable staff from across the University to discuss recruitment issues face-to-face with over 20 of our overseas representatives. This exhibition-style event will entail each of our international agents staffing an information stand, providing an informal forum in which staff can ask questions relating to their markets of interest. The fair is open to all those with an interest in the University's international strategy and activity, and is aimed at both undergraduate and postgraduate interest groups.  
It is hoped that the fair will enable colleagues to address issues in their key existing markets as well exploring potential opportunities in new markets. The event will take place on Wednesday 8 June in University Place, 5th Floor from 09.30 to 11am. Registration, on the ground floor near main reception, will open at 9.20am. There will be a brief refreshment break, from 11 to11.30am, for anyone who would like to continue their discussions with our agents over coffee.
For further information and to reserve your place at International Education Advisor Fair and the Pre-conference Workshop, please contact:
Please note that places for the event will be limited and booking is essential.