Stock Take Summary 2011
06 Jun 2011
Read about the University's progress against its Strategic Plan in 2009/10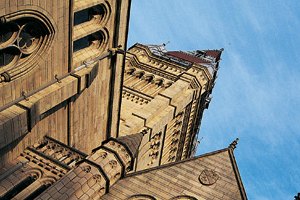 The 2011 Stock Take Report provides a detailed appraisal of progress against the University's Strategic Plan in 2009-10 and is a key component of the University's Planning and Accountability Cycle.
The new version of the University's Strategic Plan, Advancing the Manchester 2015 Agenda, came into effect during 2009-10. The Plan confirms the University's overall vision for 2015 – to be one of the top 25 world-leading institutions – but clarifies and refines the Goals and Key Performance Indicators. The Strategic Plan now has three Core Goals - Research, Higher Learning and Social Responsibility - and six Enabling Goals. The 2011 Stock Take Report reports progress against this Strategic Plan and these Goals and Enabling Goals.
Priorities for Future Action
The full version of this Stock Take Report was  considered by the annual Board of Governors'  Planning and Accountability Conference held in March 2011. The Conference also considered future plans in all key areas of the University in the light of major changes to the
university sector in the UK.
The Board meeting following the Conference also approved a fee for undergraduate students of £9,000 for the intake in 2012 to enable the University to continue its significant investment in measures to support students. These include investment in the student experience, widening participation and a generous package of bursaries and fee waivers. The fee level and the details of our access package are subject to approval by the Office for Fair Access.
The Board considered the known cuts to funding, assumptions about the likely future impact of funding reductions and the need to invest in improving the student experience and in maintaining funds for capital. The Board approved a package of measures to include a savings target of £7 million in non-pay costs and a further £20 million in pay costs which will include a new voluntary severance scheme to bridge the gap in funding expected by 2014-15.
The Board of Governors considered draft strategies for Research, Goal Three – Social Responsibility activities, and  Internationalisation. It also heard about Project Platinum, a new project which will review the efficiency and effectiveness of all of our processes across the University.
Notwithstanding the financial pressures, it is these strategies and projects, together with an on-going programme of activity to improve
the student experience that will form the focus of the University's work in the months ahead.
For more information, read: