Staff Survey Action Plan
06 Jun 2011
An action plan based on the findings of the Staff Satisfaction Survey has been agreed.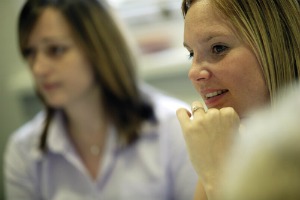 23% of staff responded to the 2010 survey, which revealed that staff felt they were doing something worthwhile at work and felt proud to work at the University.
But there were low levels of satisfaction in other areas, including communication  between teams and sections and from senior managers; the effectiveness of current Personal Devleopment Reviews (PDRs) and the provision of showers and lockers.
The Action Plan will focus on the following areas:
Leadership and management issues
Communications within and between teams
Support for training and development
Performance and development review
Recognising and valuing staff
Review of business processes
Career opportunities
Director of Human Resources Karen Heaton said: "This action plan really does reflect the issues which you have raised. Staff here in Human Resources will be working closely with colleagues across the University to make sure that we are able to implement a range of initiatives so that improvements are made in key areas."
The full action plan can be seen on StaffNet at: