Congregations for Conferment of Degrees: 11-22 July 2011
24 May 2011
All members of The General Assembly, The Board of Governors, Senate, Emeritus Professors, Wardens of Halls of Residence and members of the teaching and administrative staff are invited to attend and take part in the academic procession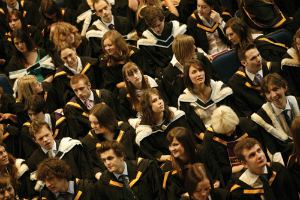 Those attending are asked to complete the Academic Procession Confirmation Form to confirm the ceremony or ceremonies at which they intend to be present.
Please return this form no later than Friday 17 June 2011 to:
Robes for members of staff will be ordered free of charge provided the form is returned by Friday 17 June 2011. Gowns ordered after Friday 17 June 2011 may not be available and will also incur a £35 charge.
Members of the procession who have ordered academic dress may obtain their robes from Committee Room A, Whitworth Corridor immediately prior to the start of the ceremony they are attending.
All robes hired for staff must be returned to the Committee Room A on the day of the ceremony. Failure to do so will result in a charge being levied.
Alternative arrangements have been made for members of academic staff who are required to present graduands. Details of these will be circulated to the individuals concerned in due course.
The platform party for each ceremony will be restricted to a maximum of 40. Places in the procession will be issued on confirmation of an intention to attend on a first come first served basis.
Please assemble in full academic dress in Committee Room A, Whitworth Corridor not less than twenty minutes before each ceremony.
View the schedule of Ceremony Dates and Times online at: