RNCM fills Manchester's Victoria Baths with music this summer
17 May 2011
'Noise of Many Waters' from Thursday 30 June to Saturday 2 July (7pm) at Victoria Baths, Hathersage Road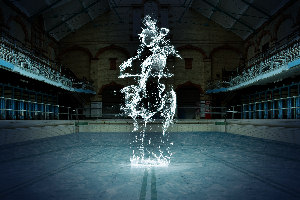 For three nights this summer Manchester's stunning Victoria Baths will be awash with music thanks to Noise of Many Waters – the latest spectacular in a series of sell-out events the Royal Northern College of Music (RNCM) has created for Manchester landmarks, including the Imperial War Museum North, the Whitworth Art Gallery, and Manchester Piccadilly station. Noise of Many Waters will unite 150 RNCM students for a unique evening of poolside tales featuring the music of Handel, Telemann, Debussy, Ravel, Gavin Bryars and George Crumb.
The evening will also include performances of new pieces written in response to the building. With a chamber orchestra, a number of other ensembles, chamber music, choral and piano music, song, and solos and duos for many different instruments, plus theatre, dance electronics and even some ice thrown into the watery mix for good measure, there will be music in every corner of the building, and we invite you to immerse yourself in sound and create your own unique journey.
Victoria Baths, or Manchester's Water Palace as it is affectionately known, officially opened to the public in 1906 and for 87 years operated as a public baths, a social hub for its community. In recent years this architectural gem has begun slowly but surely to be returned to its former glory, after winning the BBC's first Restoration series in 2003. Guided tours of the Baths will be available from 5pm on Friday 1 and Saturday 2 July.
Tickets for Noise of Many Waters (£10 )
To book, call:
Box Office on 0161 907 5555
Tickets for guided tours of the Baths (£5 - no concessions)
To book, call:
Further information: