2011 Celebration of Cycling!!
15 Jun 2011
On Tuesday 21 June (8.30am to 4.30pm) University Place once again plays host to the traditional Oxford Road celebration of all things cycling.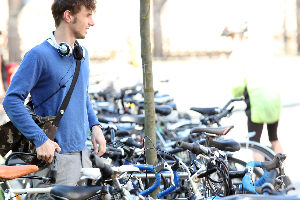 On Tuesday 21 June, during National Bike Week, there will be a range of cycle-related promotions, giveaways and information for University, hospital and College of Music staff and students.
The event at University Place will take place from 8.30am to 4.30pm, with around 15 companies supporting the event. New for this year is a Bike Auction at 12.30pm, at which a mixture of refurbished and new cycles will be auctioned off to the highest bidder! In addition, there will be bikes to trial, prize draws, security marking, a free breakfast, bike maintenance and much more …
Join a route – newcomers especially welcome
The event, as always, aims to showcase cycling and attract new cyclists. To support this and provide a community feel, a number of guided routes will take place from across Manchester. Is there one near you? Volunteer staff guides will lead routes, specifically designed for novice cyclists, which will ease along at a steady pace. All cyclists are welcome on these rides, new and experienced, as it's a great chance to meet fellow riders.
There are 10 routes but we are particularly keen for participants to join newer routes such as Ashton, Salford, Heaton Park and Hyde. If you live in these areas, please do join in if you can.
To see more detail on the event, route details and to sign up, see:
Register and enter the FREE Prize Draw
It is really helpful if you register in advance and let us know whether you are joining a route or not.
This helps us cater for breakfast etc and you will be automatically be entered into the Prize Draw.
Please register online at:
Cycling on the rise…
Please come along and join in. Through its Travel Plan, the University has seen a real upturn in the number of staff choosing to travel by bike – up to 13% in the latest staff travel survey – and wants this trend to continue.
For more information on cycling, including facilities, tax free bikes and much more ,see:
Free Bike Package Project
The University's Bike User Group (UMBUG) successfully received funding to provide University car drivers with a great incentive to try two wheels. The free package includes two weeks' bike hire, equipment incentives, training and support. 50 places are up for grabs and promotion has taken place at multi-storey car parks. At the time of going to print, places are still available.
To find out more and see if you can still register, visit:
For any more details, please contact: