This weekend at The Manchester Museum
10 May 2011
Wedding Fayre (15 May) * Museums at Night (14 May) * Conservation and Sustainability talk (14 May)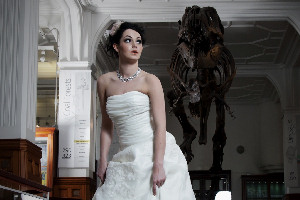 Sunday 15 May, 11am-4pm
Wedding Fayre at The Manchester Museum
Free entry and refreshments upon arrival for guests.
A unique grade 2* listed building built in 1885, The Manchester Museum can offer you something completely different for your special day. With around 4.5 million items in our collection including dinosaurs, pottery, weapons, snakes and frogs we can make sure it's a day to remember!
Using a combination of our conferencing suite and galleries we can accommodate ceremonies, wedding breakfasts and receptions to suit your individual needs. Couples are invited to come along, free of charge, this Sunday to explore the Museum and find out how you can hold your special day at this unique venue. There will be a bucks fizz reception on the day amongst plenty of suppliers including bridal wear, cakes, jewellery, musicians, cars and photographers.
To find out more about weddings at the Museum, contact:
-----
Saturday 14 May / 5-9pm
Museums at night
The ghost of a man from the 1880s and the head of a young Egyptian prince etched in the dust are just a couple of the Museum's ghostly sightings. See if you can spot anything on our spooky tour, take part in art and craft and watch an after-hours family friendly film screening of Night at the Museum (in our Fossils gallery underneath Stan the T.Rex). During the evening there will be an opportunity to eat a picnic – so please bring some food and drinks with you. Please note that children have to be accompanied for the whole evening and any adults attending will need to purchase a ticket.
Booking essential, £5. You can pay by credit card by ringing Laura O'Donnell on 0161 275 2635 or by sending a cheque payable to The University of Manchester to Anna Bunney, The Manchester Museum, The University of Manchester, Oxford Road, Manchester, M13 9PL. Suitable for families with children of all ages.
Conservation and sustainability talks
Every Saturday between Saturday 7 May & Saturday 11 June
Did pre-historic hunters live in balance with nature or over exploit their resources? How can we make sure our current food resources, such as fishing, are harvested sustainably? Join museum and university experts along with 6 objects from the Museum's collection to explore the history of sustainability and how we might become more sustainable.
Saturday 14 May / 2-3pm: This Island Earth
Did the people of Easter Island cause the depletion of their island's resources or was it the impact of contact with European society? Does the Easter Island story act as a metaphor for today's world population and resources? Anthropologist Colin Richards, from The University of Manchester will debate these issues.
  
Saturday 21 May / 2-3pm: Plenty more fish in the sea?
Are fish a sustainable food source or do we face empty oceans? Join geneticist Niklas Tysklind, Bangor University in a discussion on the relationship between people and the sea.
  
Saturday 28 May / 2-3pm: Fencing off nature?
Yellowstone Park was created in 1872 as a public monument "for the benefit and enjoyment of the people". Join George Holmes, Leeds University in a discussion about how 'natural' is nature.
  
Saturday 4 June / 2-3pm: The bread of the Tropics
Originally native to South America, Manioc is now a staple in the entire tropics. Film-maker and photographer duo Ali and Sumiko Anzai-May, will talk about the history of how humans have used plants for their own use, and what impact that has had on the natural world.
  
Saturday 11 June / 2-3pm: Spending to save
What do we know about the current balance between economy and nature? Johan Oldekop, The University of Manchester, will discuss the interaction between money and credit as we struggle to protect biodiversity.
Book on 0161 275 2648, free, adults and older children
To find out more: