Artists depict Algeria's troubled past and changing future
07 Apr 2011
An exhibition by Algerian, French and British artists - depicting Algeria's war ravaged history and changing politics - is opening tomorrow (8 April) at Manchester's Cornerhouse.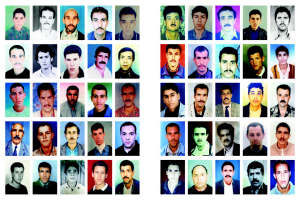 The show - called New Cartographies: Algeria-France-UK – is curated by Dr Joseph McGonagle, from The University of Manchester and Dr Edward Welch, from Durham University.

Among the subjects illustrated by the ten artists are everyday Algerian life and the Algerian War  when up to a million people died.
 
They also probe current relations in a globalised era, as the 50th anniversary of Algerian independence approaches.

Using a variety of media including video, maps, photographs of the disappeared, documentary photography and installation - the free exhibition will run until June 5.

The exhibition is part of a project funded by the Arts and Humanities Research Council.

Dr McGonagle, who is a Lecturer in Cultural Studies in the French-speaking world at The University's School of Languages, Linguistics and Cultures, said: "Algeria is a gateway between Africa and Europe but has been ravaged by violence over the past half-century.
 
"Many thousands of lives were lost in the Algerian War from  54-62, and the Algerian Civil War between  1992 and 2002.

"Now, Algeria has become a favoured diplomatic partner in the American-led 'war on terror', and an increasingly privileged trade partner of the UK as civil unrest and social turmoil convulses much of North Africa.

"These ten emerging and established contemporary artists based in France, Algeria, and the UK react to these seismic shifts."
The artists include: 
Algerian photographer Omar D, who documents the lives and traces of the disappeared during the Algerian civil war.
French photojournalist Sophie Elbaz, who explores her family's Sephardic Jewish origins in Algeria.
Algerian Amina Menia who has made a series of large scale photo-monuments to commemorate those killed during the Algerian War.
British documentary and fine art photographer John Perivolaris, who documents a month-long photographic and multimedia journey from the UK to Algeria.