Back in the saddle for 2011
25 Jan 2011
Join the next Cycle to Work ride to University Place on 2 February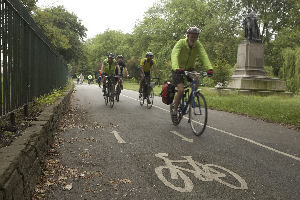 Has your New Year's health kick already fizzled out? Then perhaps a long-term solution is to cycle to work on a regular or casual basis.
Our monthly rides continue on Wednesday 2 February, with guided routes in, a free breakfast and a chance to meet fellow cyclists.
There are a combination of regular rides and on request ones (make sure you contact us if you wish to join an on request ride).
All cyclists are welcome – experienced, newcomers, casual riders, riders from train stations - you don't have to join a route to come along.
This month, we are at Eats Refectory, University Place, 8.20am – 9am, and we look forward to seeing you there.
All the details are online at:
Help us spread the word by using the publicity downloads on the webpage.