Celebration for University of Manchester Nobel prize 2010 winners
24 Jan 2011
A day of celebrations will be held on Wednesday 26th January to honour the achievements of Professor Andre Geim and Professor Konstantin Novoselov, 2010 winners of the Nobel prize for Physics.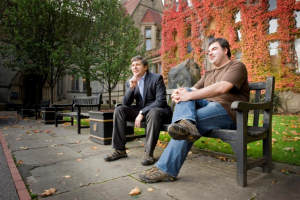 The University of Manchester academics received the award for their pioneering work in 2004 on graphene – the world's thinnest material.

Having received their awards at an official ceremony in Sweden in December, the pair will now be honoured at a special event at which both will give speeches.

Held at University Place, the celebrations will be attended by the Astronomer Royal and immediate past President of the Royal Society, Lord Rees, the British Ambassador to Sweden, heads of major UK academic and funding bodies, local leaders and many members, friends and guests of the University.

Also attending will be many of the Professors' colleagues and students eager to celebrate their success.

The celebrations will begin at 5.15pm with a reception, followed by a welcome and opening address from Professor Dame Nancy Rothwell, President and Vice-Chancellor of The University of Manchester.

Professor Novoselov, universally known as "Kostya", will then give a lecture entitled 'Graphene: Materials in the Flatland', which will be followed by questions to the two Laureates.

Lord Rees will then deliver an address, with a reply from Professor Geim, before Dame Nancy closes the proceedings.

A capacity audience of around 600 people will be attending the occasion, and the speeches will be broadcast live on the University website www.manchester.ac.uk.

Dame Nancy said: "This day of celebration will be a fitting tribute to the fantastic achievements of both Andre and Kostya, who have been awarded the highest accolade in the scientific world. 

"Their work is a wonderful example of a fundamental discovery based on scientific curiosity with major practical, social and economic benefits for society.

"I am thrilled to be able to welcome so many people to the University to help celebrate the award of the Nobel prize for Physics, which is an honour not just for the University but for the city of Manchester as well."

Professor Geim said: "I am immensely fortunate to have received incredible support from the University which has given us the time and opportunity to experiment and innovate.

"I am lucky enough to work for an employer which puts great emphasis on nurturing and supporting young talent and this has greatly contributed to our success."

Professor Novoselov added: "Since the Nobel prize was awarded, we have been to many ceremonies and events.

"Here we have the chance to celebrate with our friends, families and colleagues and we are honoured to be rewarded in this way.

"It would not have been possible to have won the Nobel prize without the support and help of both the University and our colleagues and students, so this is our chance to say thank you to them."

The Nobel Prize was awarded to Professors Geim and Novoselov for "groundbreaking experiments regarding the two-dimensional material graphene".

Graphene is a carbon lattice just one atom thick.  It is described as the thinnest possible material you can imagine, with incredible strength and truly unusual electronic properties.

Professors Geim and Novoselov have published numerous research papers in prestigious journals such as Science and Nature, which have demonstrated the exquisite properties of graphenel and its potential in novel applications such as ultrafast transistors just one atom thick and sensors that can detect just a single molecule of a toxic gas.

This work was made possible by the Engineering and Physical Sciences Research Council, which made a very major award for the work, the Royal Society, the Leverhulme Trust and many other significant funders.