147 Oxford Road Link bus service
19 Jan 2011
Temporary changes to route and stops from Monday 24 January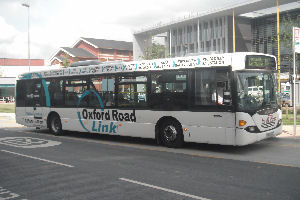 Due to the continuing gas works in the area, there are some changes to the route and stops of the 147 bus service:
From Monday 24 January, Charles Street will become one-way from Princess Street to Oxford Road for around three weeks. This will not affect the southbound service from Piccadilly.
However, the northbound service will be re-routed to turn right at Whitworth Street and a temporary stop will be provided on Whitworth Street as close to North Campus as possible.
For those travelling to Oxford Road Rail Station, the drivers will allow passengers to alight at the most convenient location on Oxford Road.
Other issues to be aware of during the next few weeks:
The BBC stop is currently out of use and a temporary stop is available on Charles Street.
The All Saints Park stop at MMU is out of use and a temporary stop is available under the Mancunian Way.
Bullocks, the service operator, and HEP partners will try their utmost to keep the service running to a 10 minute frequency. Posters will be displayed on the buses.
For further information on the service (normal route), see: