Life's work of Manchester historian honoured
06 Jan 2011
The contribution of a University of Manchester historian to the study of French history was recognised last month by the University of Paris-Sorbonne.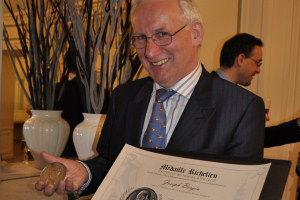 Professor Joseph Bergin was the first-ever recipient of the silver Richelieu Medal, awarded to scholars who have contributed to promoting the values of scholarly excellence.

It is the latest of a series of accolades honouring Professor Bergin's work: in February 2010 he received the 'Antiquities of France' medal from the French Academy of Inscriptions and Belles-Lettres for his most recent book, Church, Society and Religious Change in France 1580-1730.

He was also made an 'officier' of the French Order of the Palmes Académiques by the French government in 2010.

Although the Richelieu Medal is not itself a book prize, Professor Bergin's earliest and most original work dealt with the career of Cardinal Richelieu (1585-1642) who was in many respects France's first Prime Minister.

Born into a noble family which fell on hard times during his childhood, Armand-Jean du Plessis de Richelieu managed to rise through the French church and to embark on a political career

He became a cardinal in 1622 and then 'principal' minister to Louis XIII for one of the longest terms of any prime minister in history, from 1624 to his death in 1642. 

Richelieu was also an intellectual and a theologian, who patronised the arts, rebuilt his old college, the Sorbonne, and founded the Académie Française, which still exists and whose forty members – the 'immortals' – were originally elected to promote and embellish the French language. 

Cardinal Richelieu also died the richest man in French history until then, and Professor Bergin's first book traced the process of his enrichment, which was so closely entwined with his political career.

He followed it with a second book, The Rise of Richelieu, which traced the future Prime Minister's emergence as a major political figure, dispelling the myth that he was somehow pre-destined to achieve political eminence.

Professor Bergin said: "The fact that this is not a book prize, but honours a much broader contribution to the study of French history, is particularly gratifying.

"No less gratifying is the fact that the Sorbonne thought of making the very first award of the Medal to a non-French scholar. The European spirit seems to be alive and well!"

Professor Bergin, who was born in Kilkenny, Ireland, has been teaching at Manchester since 1978, and is an internationally recognised expert on the history of early modern France, especially the seventeenth century.

He has written six major books, one of which was awarded the separate Prix Richelieu in 1995, and edited a number of others.

He was elected a Fellow of the British Academy in 1996 and has frequently been a visiting professor to French universities.