Sport, health and fitness opportunities for staff
26 Oct 2010
Five-a-side football, coaching, health and fitness, sports volunteering and fundraising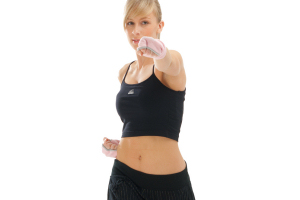 1) 5-a-side football
2) Coaching Sessions (squash, badminton, football & basketball)
3) Health and Fitness Classes
4) Sport Volunteer Scheme
5) Children in Need mixed sex netball game
1)  Wednesday Five-a-Side League
There is still space for teams to enter into the Campus Five-a-Side League on a Wednesday evening. Fixtures are played at the Armitage Site at 6pm, 7pm and 8pm.
The cost to enter a team is £125 for a full year's league, running from October – March/April. Male and female staff, students and non-University players are welcome.
For further information:
2)  Fancy taking up a new sport?
If you're looking to learn a new sport or brush up your skills in a sport you play recreationally then you might want to consider joining one of our beginner or 'next step' coaching courses.
Badminton
Beginners: Fridays (beg. 22nd October) 5.30-6.30pm £36
"next step": Mondays (beg. 18th October) 5.30-6.30pm £41
Squash

Beginners: Wednesdays (beg. 20th October) 7.00-8.20pm £36
Beginners: Fridays (beg. 22nd October)5.40-7.00pm £36
"next step": Thursdays (beg. 21st October) 6.00-7.20pm £41
All courses are eight weeks in length this semester, ending w/c 6th December and are held at the Sugden Sports Centre on Grosvenor Street. (Participants must provide their own racquet.)
Women's Beginners football
Tuesdays 5-6.30pm at the Armitage Site, £40 for 11 weeks, £30 for the remaining eight weeks (5 October – 14 December)
Women's Beginners Basketball
Mondays 5-6pm at Sugden centre, £39 for 10 weeks – reduced price for late sign ups (11 October – 13 December)
For further information, please visit:
3)  Women's Self-Defence Class
Keep fit, raise your confidence and take responsibility for your personal safety by developing skills in; awareness, body language, conflict management, voice control, assertiveness, effective tactical intervention and martial arts.
Our Women's only self-defence class takes place on Tuesday, 6.05-7.05pm at The Wellbeing Room, Dover Street.
If Women's Self-Defence isn't your thing, then we also have places available on: Hatha Yoga, Mobilise and Stretch and Kettle Bell Conditioning.
To book, visit:

4)  Sport Volunteer Scheme (SVS)
SVS welcomes staff to share their expertise within the local sports community. If you have an interest in gaining a different kind of work experience, develop skills and have an active interest in sport then you can get involved in the local community through our Sports Volunteer Scheme.
For further information, visit:
5)  Play Fastnet for Children in Need
To raise much needed funds for Children in Need, Sport Manchester and StaffNet Netball Squad are hosting a Charity Fastnet competition for male and female staff at The University of Manchester. 
When: Friday 19 November, 12.30-1.30pm
Where: Sugden Sports Centre
Who: The competition is open to Men and Women! So guys don't be scared, don that netball skirt and join in!
What is it: Fastnet is a new, faster format of netball. The new format was developed for a new international netball competition, the World Netball Series – but don't worry you don't have to have played before to join in, our competition is all about having fun and raising money!
Playing rules can be found at:
How to get involved
Come along and play! You don't have to be a netball player or have ever thrown a ball before, we'll tell you the basics of the game at the beginning of the event and teams will be mixed with men/ women, beginners and people who play in staffnet. Or you can come along as a spectator and support us.
If you would like to attend, please register on:
If you aren't on facebook, please email:
If you can't make the event but wish to support us, you may do so by donating via:
And girls - please try to encourage the guys in your life to have a go and bring them along!
How to donate
It's easy to donate online with a credit or debit card - just go to:
There will also be collection buckets at the event.
I would like to take this opportunity to thank the Sugden Sports Centre for donating the court time for this event so 100% of your donations will go directly to the charity.
Sheryl Thompson
Marketing Officer, SPORT