Vince Cable visits Manchester
21 Oct 2010
The Rt Hon Vince Cable, Secretary of State for Business, Innovation and Skills, visited The University of Manchester Incubator Company (UMIC) earlier today.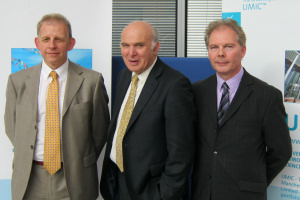 He was given a tour of the world-class business incubation resources in the Core Technology Facility.

Dr Cable met with the Deputy President and Deputy Vice-Chancellor of the University Professor Rod Coombs, Clive Rowland, CEO of The University of Manchester's Intellectual Property Commercialisation Company (UMIP) and UMIC Incubation Manager Tony Walker.

He also met Mark Ferguson, CEO of Renovo, the world leader in scar prevention and reduction research, and Andrew Gooda, Manufacturing Director of Nanoco, a company at the forefront of nanotechnology.

During the tour of two of the most exciting companies in the North West, Dr Cable found out how the UMIP, UMIC and the University identifies and supports innovative research commercialisation potential, and nurtures and develops spin-out companies and licenses technology.

Clive Rowland, CEO of UMIP, said: "We were delighted to welcome the Secretary of State and honoured to be seen as an exemplar of university technology transfer. We were able to illustrate some genuine examples of enterprise; in particular, the role of UMIP in selecting inventions and managing proof of principle and early-stage projects through to company status and licences.

"Nanoco is now a £200m business and Renovo is valued at £59m after ideas were taken from the lab with support from the University and through entrepreneurial leadership, to create award winning spin-out companies. 
"Our model and facilities are all about converting ideas into commercial reality and the work is crucial to maintaining the high profile of the University and the relevance to society of its associated commercial exploitation activities." 

UMIC is the facilities management and business support service provider for The University of Manchester.  The company is entirely owned as a subsidiary of the University, and provides state-of-the-art facilities and top-quality business support services for start-ups.
UMIC aims to help Manchester and the region deliver high levels of economic growth through the creation, development and attraction of competitive, high-value and profitable businesses within a culture of enterprise and innovation.

UMIC is the sister company to The University of Manchester Intellectual Property Ltd (UMIP), the managing agent of The University of Manchester for intellectual property commercialisation.
World class facilities are available for technology and biotechnology-based businesses.  Companies in UMIC's facilities have raised in excess of £100m in venture capital, with several now listed on the London Stock Exchange or AIM markets.