Shameless star narrates extraordinary episode in Christie history
13 Oct 2010
One-day exhibition at Withington site on Thursday 14 October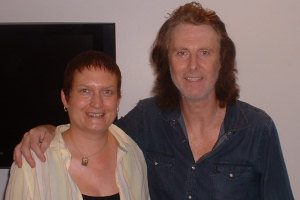 The first ever exhibition on the history of Manchester's famed Christie cancer hospital – curated by Faculty of Life Sciences researcher Dr Joanna Baines - is on Thursday 14 October for one day only.
Dr Baines hopes the free exhibition – at the Christie's Withington site from 11.30am – will give an insight into the centre's development since it opened in 1901.
She invited former and current patients, their families, staff and volunteers to contribute by taking part in an interview which will be played at the exhibition. Their stories include the early days when some staff feared contracting cancer and treatments included extracts of cow stomach juice.
One of the highlights was Shameless actor David Threlfall providing the voiceover for one of the most dramatic episodes – Chief Physicist W J Meredith's account of his team's wartime radon production in the Blue John Mine at Castleton, Derbyshire. Concerned that cities targeted by enemy bombers might suffer radioactive contamination, the government decreed in 1939 that all radium should be moved out of major urban areas. The Christie team transported the radium and rigged up a radon extraction plant in a cave 100ft below the tunnel entrance.
Manchester-born Threlfall – a distinguished film, stage and television actor now best known for his portrayal of infamously feckless father Frank Gallagher in Shameless – said:  "The Christie has such a phenomenal reputation around the world and we're so lucky to have it here in Manchester. Its history is incredibly impressive with so many world-firsts and this exhibition will give a real insight into some of those milestones."
Dr Baines added: "We were amazed and honoured when David agreed to do this. He is a much loved Mancunian, just like The Christie, and did a wonderful job of dramatizing one of the most bizarre episodes in its amazing history."