Estates Strategy 2010 - 2020
07 Oct 2010
A bold new vision for the future of the campus has been approved by the University's Board of Governors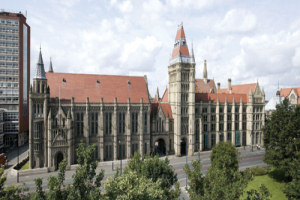 There has been a tremendous amount achieved over the past six years with more than £400m already invested in new buildings and major refurbishments; this latest document maps out our plans for the next decade.
The academic activity on the North Campus will gradually be moved to the South as we consolidate our estate on Oxford Road.
We currently have more space than we need, so we are planning to dispose of some of our assets, mainly on the North Campus, allowing us to create new facilities south of the Mancunian Way, embraced by the concept of the urban university. We have the opportunity to create a place of fine urban architecture and civilised urban spaces that integrate us with the surrounding city.
This will allow us to breathe new life into the North Campus, by turning much of it over to private student accommodation, creating a new student village near to the city centre and the major transport interchanges. This strategy will allow us to meet our research, teaching and learning, academic, service and social needs, continuing to create a world-class campus for our staff, students and visitors.
The estate currently comprises 850,000sq m of accommodation on 288 hectares of land. There are 347 buildings, including 144 residential.
The master plan envisages the creation of three major zones:
Biomedical
Engineering & Physical Sciences
Humanities
Already there are fewer Schools on North Campus, and during the next ten years we will continue to move the remainder to South Campus into more suitable, state-of-the-art buildings, either on existing University land or in Grosvenor Place, currently used as student residences.
The next phase will see a number of buildings become vacant:
Faraday and Faraday UG – to allow the construction of 1900 student bedrooms
Maths & Social Sciences
Moffat
Morton
In the longer term, we also envisage the closure of the residences at Whitworth Park, which will be converted into hi-tech academic facilities.
The document can be viewed online at: