University of Manchester scientists win the Nobel Prize for Physics
05 Oct 2010
Two scientists who discovered graphene at The University of Manchester have today been awarded the Nobel Prize for Physics.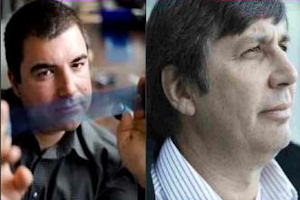 Professor Andre Geim and Professor Konstantin Novoselov have been awarded the highest accolade in the scientific world for their pioneering work with the world's thinnest material.
Graphene was discovered at the University in 2004. It has rapidly become one of the hottest topics in materials science and solid-state physics.
Professor Novoselov, 36, known as Kostya, first worked with Professor Geim, 51, as a PhD-student in the Netherlands. He subsequently followed Geim to the United Kingdom. Both of them originally studied and began their careers as physicists in Russia.
The award of the Nobel Prize means there are currently four Nobel Laureates at The University of Manchester.
Professor Geim said: "This is a fantastic honour. People have been talking about graphene as a possible prize winner for a number of years so for the community in graphene research it hardly comes as a surprise.
"However I personally did not expect to get this prize. I slept soundly last night because I never expected to win it.
"Having won the Nobel Prize, some people sit back and stop doing anything, whereas others work so hard that they go mad in a few years. But I will be going into the office as usual and continuing to work hard and paddle through life as usual.
"I have lots of research papers to work on at the moment which all need writing up so I will be carrying on as normal.
"I have a fantastic working relationship with Kostya. We worked together in Holland and then I managed to bring him to England with me.
"Very often I fall out with people who don't work hard but I have never fallen out with those who work as hard as Kostya."
Professor Konstantin Novoselov said: "I was really shocked when I heard the news and my first thought was to go to the lab and tell the team.
"I didn't know until this morning when I had a call from Stockholm.
"We have had a fantastic seven years working together on this new material graphene.
"The University is well suited to this style of research- we have excellent facilities.
"It's great to be a young academic at The University of Manchester and I'm grateful to everyone who has collaborated with us."
Graphene is a two-dimensional layer of carbon atoms that resembles chicken wire.
Since its discovery, Professor Geim and Dr Novoselov have published numerous research papers in prestigious journals such as Science and Nature, which have demonstrated the exquisite new physics for the material and its potential in novel applications such as ultrafast transistors just one atom thick – making it a potential successor to silicon – and sensors that can detect just a single molecule of a toxic gas.
A team of materials scientists and physicists from Manchester recently reported that graphene has the potential to replace carbon fibres in high performance materials that are used to build aircraft.
University of Manchester President and Vice-Chancellor Nancy Rothwell said: "This is fantastic news. We are delighted that Andre and Konstantin's work on graphene has been recognised at the very highest level by the 2010 Nobel Prize Committee.
"This is a wonderful example of a fundamental discovery based on scientific curiosity with major practical, social and economic benefits for society."
Vice-President and Dean of Engineering and Physical Sciences Professor Colin Bailey added: "This is a truly tremendous achievement, and is a testimony to the quality of research that is being carried out in Physics and more broadly across the University".
Professor David Delpy, Chief Executive, EPSRC, said: "This work represents an enormously important scientific development. An exciting new material that has a huge range of applications and will no doubt bring significant benefits to the UK economy.
"EPSRC has been supporting research by Professor Geim and his group for nearly 10 years and our latest grant has enabled the UK to retain the key academic and research staff behind this discovery, who might otherwise have been lost to foreign institutions."