Manchester mathematician picks up medical paper prize
29 Sep 2010
A University of Manchester academic has picked up the best paper of the year award for a pioneering piece on the medical imaging technique, Electrical Impedance Tomography.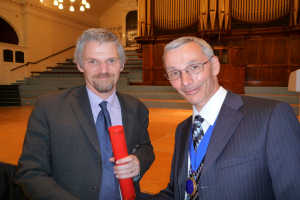 Professor Bill Lionheart was part of an international team awarded the Martin Black prize for best paper in the journal Physiological Measurement for 2009.
The judging panel behind the decision to honour Professor Lionheart and his colleagues with the award described the paper as "a clear and worthy winner".
The paper presented the consensus of a community of experts on EIT, brought together by Professor Lionheart and Professor Andy Adler of Carelton University in Canada to define and design a more effective reconstruction algorithm, a mathematical formula that produces an image of the interior body.
Professor Lionheart, whose specialist area is Applied Mathematics, said he was delighted to  receive  the prestigious award.
He added: "It is a rare privilege for a mathematician to receive an award for a medical paper and this paper shows what can be done when a team from a wide range of disciplines work together."   
EIT is becoming invaluable for doctors using mechanical ventilation to keep intensive care patients breathing as it give a clearer picture of the lungs so as to prevent the machine blowing air with too much, or too little, pressure and damaging the organs.
Until Professor Lionheart's team met in Graz, Austria, forming the Graz consensus algorithm for Electrical Impedance Tomography (GREIT), most research in lung EIT was conducted using older, proprietary algorithms that produced unclear images.
The GREIT team combined mathematicians and engineers with doctors and manufacturers to develop an EIT algorithm that produced a clearer and more accurate image.
Professor Lionheart was nominated by the GREIT team to attend the annual scientific meeting and receive the sought-after prize at the annual diner of the Institute of Physics and Engineering in Medicine in Nottingham.