Top three announced in Jorum Learning and Teaching Competition
28 Sep 2010
The Association for Learning Technology conference saw the final six winners in the Jorum Learning and Teaching Competition present their resources and receive their prizes, with the top three announced at a gala dinner.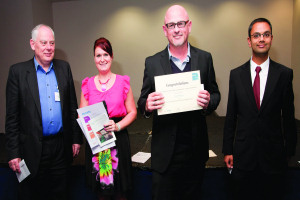 A large number of entries submitted gave the judges the difficult task of choosing their top ten, which were then placed on the Jorum Community Bay for a public vote, allowing peers to vote for the resource they wanted to see take top spot.
And the winners are...
1st Place: The Molecular Basis of Photosynthesis Submitted by: Katy Jordan, University of Cambridge
2nd Place: The Open Dementia E-learning Programme: Living with dementia Submitted by Colin Paton, Social Care Institute for Excellence
3rd Place: Making the creative process visible Submitted by: Dr Natasha Mayo, University Wales Institute, Cardiff
David Kernohan, Programme Manager at JISC, said: "We are fortunate in this country to be developing a community of people willing to share their teaching resources, but what we lack is a coherent way of highlighting the best examples of such collaboration. Competitions like this one show what we all know instinctively – that sharing can benefit not just your colleagues but also your own teaching reputation and that of your university or college."
Louise Egan, Jorum Communications Officer, based at The University of Manchester, said: "This competition aims to champion learning and teaching resources from all backgrounds and subject areas, all created under a Creative Commons licence. We were delighted to have received a great number of entries, and see the high standard of resources being shared amongst our community of users."
Videos from the winners will be released shortly. You can also view a short video recorded with James Clay, one of the judges in the competition, who talks about his experience of being a judge and his thoughts on the resources entered.
Jorum is the UK national repository for Learning and Teaching resources, all created and contributed by members of the FE and HE community. Jorum is jointly run by two national data centres - Mimas, based at The University of Manchester, and EDINA at the University of Edinburgh.