Computer Science launches Animation11
21 Sep 2010
Animation competition aims to get kids excited about computer science!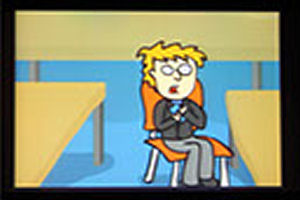 The School of Computer Science is pleased to announce the launch of Animation11 – the 4th Annual UK Schools Computer Animation Competition. 
The goal is to get kids excited about computer science by encouraging them to put together their own computer animated film. The competition is open to children between the ages of 7 and 19 and their entry should be no more than one minute in length.
The 2010 competition attracted over 1,300 entries from more than 200 schools. There were 50 prize-winning students, and over 400 children, teachers and families attended the Animation Festival and Inspirational Computer Science Day at The Lowry, Salford Quays.
If you're interested in taking part, or know a school or teacher who would like to find out more, then visit the Animation11 website
There's also a video from last year's event and the winning entries to give you a better feel for what the competition's all about.
Animation11 is funded by Google, Electronic Arts and The Granada Foundation in association with:
·         BBC21CC - the BBC's 21st Century Classroom which offers creative digital workshops to schools and teachers using multimedia and new technology
·         cs4fn - a magazine looking at the fun applications of computer science