Foundation Day to be marked by tribute to Professor Alan Gilbert
19 Oct 2010
The sixth anniversary of the University's inauguration by Her Majesty the Queen is to be marked with a tribute to the late Professor Alan Gilbert on Wednesday, October 20.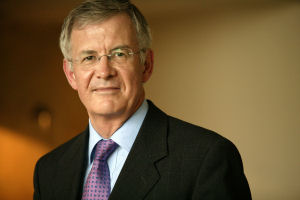 The 2010 Foundation Day Lecture, which was due to be delivered by Professor Gilbert, will be replaced by a special tribute event to honour his contribution to the University and Higher Education generally.
The tribute will be followed by the unveiling of Professor Gilbert's official portrait at the Whitworth Art Gallery, whose Turner Exhibition has also been dedicated to Professor Gilbert.
Also on Foundation Day, Honorary degrees will be conferred upon Norman Askew, Rory Brooks, Professor Jamilur Reza Choudhury, Professor Thomas Schelling, and posthumously upon Professor Alan Gilbert.
Norman Askew was the inaugural Chairman of the Board of Governors (2004-2010) and Rory Brooks is a leading philanthropist.  The Rory and Elizabeth Brooks Foundation funds the University's Brooks World Poverty Institute, an international centre of excellence established to create and share knowledge to end poverty.
Professor Jamilur Reza Choudhury was the First Vice-Chancellor of Brac University in Bangladesh and American economist Professor Thomas Schelling was awarded the 2005 Nobel prize for Economics for enhancing our understanding of conflict and cooperation through game-theory analysis.
The tribute and Honorary Degree Ceremony will be webcast live.

The timings and venues for the Foundation Day are as follows:-
1.45 – 2.45pm  Tribute to Professor Alan Gilbert, Whitworth Hall
3.00 - 4.30pm   Unveiling of the Portrait, Whitworth Art Gallery
5.00pm            Honorary Degree Ceremony, Whitworth Hall
6.00/6.15pm    Ceremony ends