Tickets available for next Martin Amis public event
22 Jun 2010
"Literature and Violence" with guests Blake Morrison and John Gray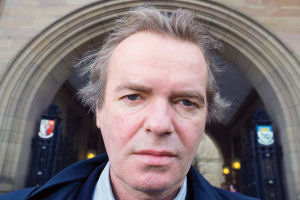 World famous novelist and Professor of Creative Writing here at The University of Manchester - Martin Amis - will be discussing the relationship between literature and violence at his next debate on Thursday 1 July 2010.
The writer will be joined by high profile guests Blake Morrison and John Gray for the evening event at the Martin Harris Centre. The event will offer a unique chance to hear Professor Amis and his guests discuss the psychological and cultural roots of violent acts, and consider the ways in which writers from Shakespeare to JG Ballard depict and respond to violence.

Highly acclaimed writer Blake Morrison has written fiction, poetry, journalism, literary criticism and libretti. Some of his work includes As If (1997) written about the murder of the toddler James Bulger in Liverpool in 1993 and 'The Ballad of the Yorkshire Ripper ' written about Peter Sutcliffe - the Yorkshire Ripper.
Renowned political philosopher John Gray is the author of several distinguished books including Al Quaeda and What it Means to Be Modern, Straw Dogs and Black Mass.
Organisers at the University's Centre for New Writing expect a lively and stimulating evening which will conclude with a Q and A session, allowing members of the public and students to put questions to the panel.
Date: Thursday 1 July 2010
Time: 6.30pm
Venue: The Martin Harris Centre, The University of Manchester, Bridgeford Street, off Oxford Road, Manchester, M13 9PL
Tickets: £7 (£5 concessions)
Tickets are available from the Martin Harris Centre box office on 0161 275 8951 or e-mail boxoffice@manchester.ac.uk
You can also contact Quay Tickets online or 0870 428 0785
For more information, see: