New President and Vice-Chancellor for The University of Manchester
21 Jun 2010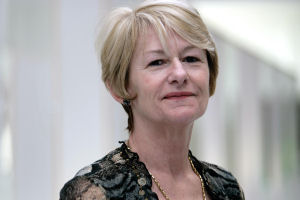 Professor Dame Nancy Rothwell has been appointed President and Vice-Chancellor of The University of Manchester.
Dame Nancy was selected following an international search which produced an impressive shortlist of candidates.
A distinguished Life Scientist, Dame Nancy has been a member of staff at the University since 1987 and Deputy President and Deputy Vice-Chancellor since 2007.
She will take-up her post on 1 July 2010 succeeding Professor Alan Gilbert, who is retiring after six years.  Professor Gilbert was the inaugural President and Vice-Chancellor of The University of Manchester, which was established following the merger of the Victoria University of Manchester and UMIST.
Dame Nancy becomes the first woman to lead The University of Manchester or either of its two predecessor institutions.
Commenting on her appointment, Dame Nancy said: "I am honoured and delighted to be invited to lead the University at this exciting time. I am determined to maintain the strategic focus that we have developed over the past six years and to work closely with colleagues to identify new priorities and opportunities for the University in the very challenging external environment that we will face over the next few years."
Chairman of the Appointment Panel and Chairman-elect of the University's Board of Governors Mr Anil Ruia said: "Dame Nancy will bring her own distinctive strengths, perspective and style to the role of President and Vice-Chancellor which will enable the University to build upon the remarkable progress that we have made under Professor Alan Gilbert's leadership".
A further message for University staff from Professor Dame Nancy Rothwell will be issued in the next few days.