Student Action Manchester takes a first
22 Jun 2010
£10,000 award for student-led volunteering organisation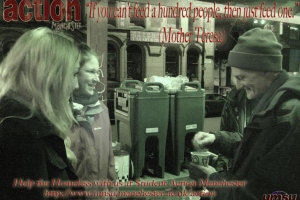 On 11 May, we asked you to vote for Student Action Manchester, who had been nominated for the Creme of Nature Community Awards along with four other charities. Student Action Manchester is a student-led volunteering organisation which runs projects with the elderly, homeless, children, people with learning disabilities and the environment.
We are very pleased to announce that Student Action Manchester won the first prize, which means that they have £10,000 to spend on their activities in the next academic year.
Organiser Emily Booth (BA(Econ) Economic and Social History) would like to thank everyone who voted for Student Action and helped them to win by a margin of more than 500 votes. Emily has also won the job of Student Action Coordinator for 2010/11, which means that she will oversee the spending of the money and make sure that it is used in the best possible way to benefit the students of Manchester and the community too.
The increased funding will allow Student Action to do so much more with all their projects, which include taking children from the local homeless refuge to the theatre and cinema, and buying new equipments and arts and crafts materials for them and four learning disabilities groups. New projects this year include: bike repairs, helping out at Platt Fields Park, and shopping and cooking with elderly people.
For more information about Student Action Manchester and the projects that will benefit from the award, check out: