Eye genetics lecturer to cycle Tour de France stage for charity
09 Jun 2010
Help Forbes raise funds for Fight for Sight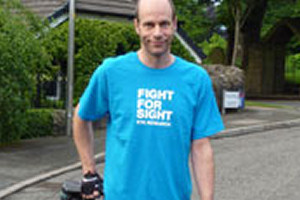 Dr Forbes Manson (forbes.manson@manchester.ac.uk), a lecturer in ophthalmology in the School of Biomedicine, is riding the Etape du Tour to raise funds for Fight For Sight, a charity that funds two of his research projects into glaucoma and cataracts.
Fight for Sight is the largest charity in the UK dedicated to funding research into a wide-range of eye conditions including macular degeneration, glaucoma, cataract, diabetic retinopathy, as well as the causes of childhood blindness.
The challenge Forbes has set himself is the mountainous stage of the Tour de France ridden by 9500 mere mortals a couple of days before the professions race it for real. This year the event, on 18 July, is commemorating the 100th anniversary of the Pyrénées inclusion in the Tour de France. Starting in Pau the 181 km route includes three climbs: the Col de Marie-Blanque (1035 m), the Col du Soulor (1474 m), and finishes atop the imposing Tourmalet (2115 m).
Forbes has been training since the start of the year and hopes that his many hours of slogging up every hill he can find in the Peak District will pay dividends on the day.
If you would like to support Forbes' exertions and help raise funds for research into eye disease, you can donate at his Just Giving web page at: