Andrew Ellison appointed as new Sport Development Officer
28 Apr 2010
England Men's Lacrosse squad member joins SPORT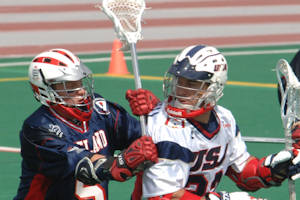 SPORT has appointed Andrew Ellison as the new Sport Development Officer for Campus Sport. He is responsible for managing the annual programme of intramural leagues and tournaments, as well as increasing participation in sport and promoting an active University lifestyle.
Andrew joins us from Community Service Volunteers, an organisation that focuses on informal education opportunities for hard to reach young people. Andrew graduated from the University of Chester in 2006 with an MSc in Health and Nutrition.
Andrew has recently been named as one of the 23 members of the England Men's Lacrosse squad, which will be competing in the Lacrosse World Championships at our very own Armitage site from 15 to 24 July 2010.
Andrew has been playing Lacrosse for 18 years, since the age of 10, following in the footsteps of his dad who was also a quality Lacrosse player. Andrew's dad will also be making an appearance on the World Championships stage in July, playing in the Super Grandmasters (over 55s) competition. 
Andrew has a number of England caps under his belt and was part of the England team which won the European Championships in 2004 and 2008, and also finished 5th in the last World Championships in Canada. He is now in preparation for the World Championships and is training four days a week with the England squad.
If you would like to go and cheer on Andrew and the rest of the England squad, tickets for the Lacrosse World Championships are on sale now and can be purchased online at: