Dragon Boats 2010: Biggest event in the sporting calendar
19 Mar 2010
Be part of it and help raise money for a great cause!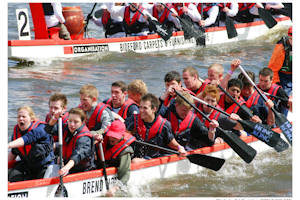 The 39th annual Two Cities Boat Race between the Universities of Manchester and Salford will be held on Saturday 8 May 2010 at Salford Quays.
The action packed schedule will kick off with a morning of fun, yet competitive, dragon boat racing followed by an intense nail biting rowing regatta between Salford and Manchester University boat clubs.
To enter the popular dragon boat race you will need a crew of 16 rowers and one drummer. Each team is guaranteed at least two races – and maybe a final! Crew 'uniform' or even fancy dress is encouraged, but not compulsory.
Your team will need to raise a minimum of £750 sponsorship, which works out at just £44 per person. This must be paid in advance to:
Jayne Newey, SPORT HQ, William Kay House, 333 Oxford Road, Manchester, M13 9PG
For registration forms, contact:
A deposit of £20 per person will be required to secure your booking.