Wellbeing Week: 22-26 March 
16 Mar 2010
Take time out to reflect, relax and find balance in your life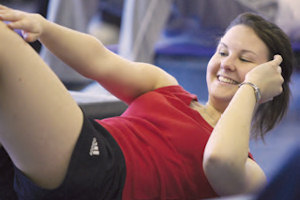 Wellbeing Week is designed for staff and students to try out new ways of improving mental and physical wellbeing along with having fun and meeting new people.
The event and all of the activities are FREE and the programme is designed to encourage us all to think about how we manage our own wellbeing, and steps we can take to recognise and reduce stress. It offers an opportunity to take time out to reflect, relax and find balance in our daily lives.
All sessions and activities are introductory and suitable for complete beginners and will take place across campus each day between 11am and 3pm.
Activities on offer during Wellbeing Week:
Staff only five-a-side football tournament
Swimming
Health checks by Occupational Health
Pilates, yoga and meditation
Wide variety of dance classes
Food workshops
Free pedometers when you join the campus walk
Relaxing massages
Plus many more
-----
Special offer from SPORT: Bring men along to fitness classes for FREE!
In conjunction with Well Being Week, the Sugden Centre is offering all current female fitness class users the opportunity to bring along up to two male friends or work colleagues for FREE! This offer applies to all drop-in Fitness classes at the Sugden Centre until 28 March 2010.
-----
For details of the Wellbeing Week schedule and how to book:
This event is funded by Human Resources (HR) working in partnership with Counselling, Occupational Health, FoodOnCampus and SPORT.