Cycle theft can be prevented!
14 Sep 2009
Register your bike and report suspicious activity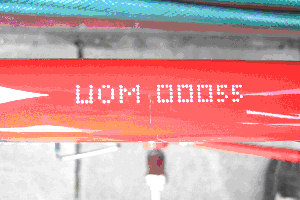 Cyclists!
Thieves steal all types and quality of bikes - Just because yours may be old and in your opinion not worth much doesn't mean that it will not be a target for the thief.
No matter what quality of bike you own it's imperative that you invest in a good quality locking device. There is more chance of your cycle still being there when you return to it, if you secure it with a recognised, fully tested and appropriately graded product. For further details, please see the Home Office recognised Sold Secure website.
The thieves are coming onto campus with the tools to commit the crime, the most popular at present being bolt cutters. They are using these to cut through poor quality cable locks.
Cycle Registration Scheme
The University of Manchester has introduced an overt cycle marking scheme which is FREE to all staff and students. This has three aims:
Provide an additional deterrent for the thief.
Make it easier for our Security Patrols and the Police to check owner details.
Ensure that if a cycle is stolen and recovered then we can return it to the rightful owner.
It is achieved by applying a uniquely numbered serial number (see photo) onto the bike frame in a clearly visible location usually on the crossbar or seat stem.
Details of the owner and cycle are recorded on a database held in the University Security control room and on the national property database Immobilise. These are available to our security patrols and the Police.
There have already been a number of cycle registration events and more are planned for the future both on the main campus and University residential locations.
If you would like to register your interest, please email the following details to:
Subject: Cycle Registration Scheme
Name: 
Department: 
Building: 
Contact Tel No: 
Contact e Mail: 
Ian will collate the responses and organise events accordingly.
Reporting stolen bikes
It's very important to report the theft of your bike to both the University Security Patrols and the Police. We need to be sure that all instances of crime are recorded so that we can identify hot spots and implement appropriate target hardening measures. By following these steps we may be able to prevent further crimes.
Security - 0161 306 9966 (on the rear of your ID card) or 0161 275 2728
Greater Manchester Police – 0161 872 5050 or 999 in an emergency.
Reporting suspicious activity
Staff/students: Reporting costs nothing and doesn't put you at risk!
Thousands of staff and students circulate around all areas of the campus on a daily basis. The thieves who target our campus are usually not very sophisticated and will openly attack a bike lock with bolt cutters or other implement in public view.
Our Security Officers are very pro-active and have detained numerous offenders over the last few months but they need your help wherever possible. We don't want you to confront the criminals, but report the suspicious activity as soon as possible to:
0161 306 9966 (on the rear of your ID card)
or
0161 275 2728
The security staff will do the rest.