Launch of Crucial Guide Live
03 Aug 2009
New online resource for students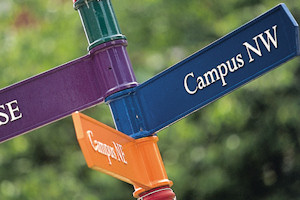 The University is pleased to announce the launch of Crucial Guide Live, a new online resource for students.
Life sometimes throws up challenges for our students, and there is lots of advice and support out there – but how do you find it? Bookmark Crucial Guide Live now!
Building on the Student Services Centre web content and the paper "Crucial Guide", distributed to all new students, Crucial Guide Live enables students (and staff) quickly and easily to find guidance and information on a range of subjects in a single location.Packed with up-to-the minute information and links, Crucial Guide Live organizes its content according to five themes: academic, financial, personal, university and city life.
To find out more, visit:
NOTE: This new resource will replace material held currently on the Student Services Centre website. You are therefore advised to check links to the SSC website in your hard copy publications or local intranet pages.
If you have any problems or concerns regarding this, or just want some advice, please contact:
Charlie Whitehead ext 52094
or
Karen Badat ext 52073