Towards zero waste: Don't bin it .... bank it
16 Jun 2009
Donate unwanted items to STARS' reuse and recycle scheme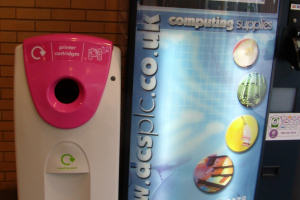 "Each year in Britain, we throw away 28 million tonnes of rubbish from our homes. This weighs the same as three and a half million double-decker buses. A queue of buses that long would go around the world one and a half times".
With summer just around the corner and students leaving their halls of residence, STARS has set up a reuse scheme, with the aim of reducing the amount of waste from halls that goes to landfill. Members of staff are also invited to donate unwanted items to the scheme, which will run until 25 June.
Four local charities will benefit from discarded goods:
Oxfam
Unwanted clothes, shoes and handbags
Books, CDs and DVDs, which can be sold in their shops around the UK to help make money for the charity
RSPCA
Duvets and blankets for RSPCA animal shelters across Manchester, Salford and Cheshire
Mustard Tree
Non-perishable food items for homeless charities across Greater Manchester
Wesley Community Furniture
Furniture, working electrical appliances and kitchen utensils for reuse in the wider community
In addition, STARS will be recycling:
Old mobile phones
Inkjet printer cartridges
Oold computers and printers
STARS is also promoting the recycling facilities across its three campuses for:
Paper, newspapers and magazines
Glass bottles and jars
Food and drinks cans
Plastic bottles
Cardboard
Batteries
Collection points are being set up around the three campuses in Fallowfield, Victoria Park and City. For a list of the locations, please download:
This is part of a national campaign that many universities are joining to tackle the increasing culture of the 'landfill society'. The aim is to change the emphasis from waste to the three Rs:
Reducing the materials we use
Reusing what we have
Recycling what we cannot reuse
The scheme which universities are adopting is called 'towards zero waste'.
If you would like more information on this scheme, feel free to email: