Measuring the University's carbon footprint
09 Jul 2009
Your invitation to an informal open meeting on 21 July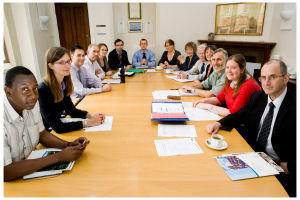 As part of its 2015 strategy, the University is committed to reducing its carbon emissions by at least 3% year on year. This commitment demands that we measure our carbon footprint as accurately as possible and then devise and implement tactics that will enable this strategic target to be met.
To assist us in these tasks, the University has joined the Carbon Trust's Higher Education Carbon Management Programme (HECMP). The HECMP Core Team, chaired by Professor Maynard Case, Associate Vice-President for Compliance, held its inaugural meeting on 28 May 2009 (pictured).
The aims and operation of the HECMP will be described and discussed at an informal open meeting on Tuesday 21 July in the Kanaris Lecture Theatre in The Manchester Museum. The meeting will begin at 10.45am, preceded by coffee at 10.30am, and be followed by a buffet lunch.
Interested staff and students are invited to attend this presentation. For catering purposes, would you please indicate your intention to do so by Friday 10 July to: