Oxford Road/Oxford Street closure: 18 May to 30 August
28 Jul 2009
Phase 3 of water pipes replacement begins on 3 August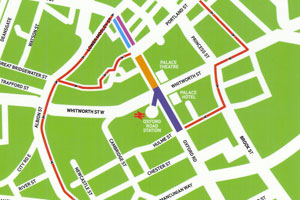 On Monday 18 May, United Utilities begins replacing the water pipes on Oxford Road and Oxford Street, which are more than 100 years old. Once the job is finished, there will be improved water quality and fewer leaks for generations to come. And they won't need to replace the pipes again for ages.
The work will be done in three phases over a period of three and a half months:
Phase 1: 18 May - 21 June
Between junction with Hulme Street and Whitworth Street for five weeks
Road will be closed to all traffic (except buses), including the junction with Whitworth Street.
Access will be maintained to Oxford Road Station along Whitworth Street and to the station approach.
Phase 2: 22 June - 2 August
Between junctions of Whitworth Street and Portland Street
Road will be closed to traffic (except buses).
Phase 3: 3 - 30 August
Between junctions of Portland Street and Lower Mosley Street
Lanes will be closed, but the existing one-way traffic route will be maintained.
Parking bays may be suspended.
Diversion routes will be clearly signposted and are shown on:
Delivery access will be maintained wherever possible.
More information at:
0845 746 2200 (Project No. 90013948)