Don't forget University Boat Race on Saturday
30 Apr 2009
This year's Two Cities Boat Race between the Universities of Manchester and Salford has been brought forward by 24 hours to Saturday 9 May.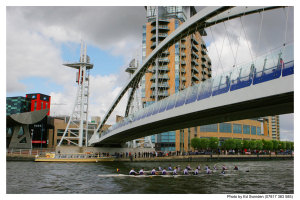 The decision was taken after the Manchester derby match between United and City at Old Trafford was switched to 10 May for live TV coverage, thereby clashing with the annual rowing regatta at neighbouring Salford Quays.
Having consulted with participants, volunteers, police, suppliers and senior authorities in both universities, it was agreed that it would be irresponsible to proceed with the event on the original date.
This year's race will now be held on the afternoon of Saturday 9 May from 12.00pm. Unfortunately this means that the Dragon Boat Races, which normally take place prior to the regatta, will not be running this year. However, the competitive races between Manchester and Salford will proceed in their usual format and all spectators are welcome to come along and enjoy this free event, now in its 38th year.