The Guide to Professional Support Services
08 Apr 2009
Improved online resource for finding specialist advice and support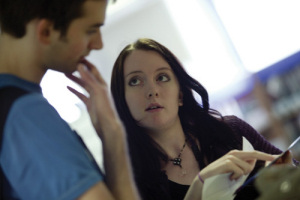 An improved online guide has been developed on the staff intranet 'StaffNet' to tell you where to seek information about the Professional Support Services:
Professional Support Services is the new name for the Administration. The new title aims to reflect more accurately its role of supporting the whole of the University community in providing specialist advice and support across a wide range of services delivered by colleagues who regard themselves, quite properly, as professionals in their respective field. They may be operating as accountants, maintenance engineers, careers advisers, HR managers, IT specialists and so on or in the more familiar areas of administrative, clerical/secretarial, technical and manual support services.
The online guide is searchable by office, service or service provider. Use the search box to find an office and its associated services, documents and contact information, or browse the University administration structure and select an office for further information.
Users are encouraged to update their details if necessary using the simple online form. If you are a manager for an area, it is your responsibility to make sure the services information is kept up to date via the same form.
Inserted with this month's UniLife and Staff Update is a copy of 'A Guide to Professional Support Services', a leaflet which gives a brief outline of the services within the PSS and includes an organizational diagram for reference. This leaflet supplements the online guide.
If you are missing a copy of the leaflet: